EpfIndia website unifiedportal-mem.epfindia.gov.in – UAN Login Activation, PF Balance Check, Epf Withdrawal, Epf Interest Rate (8.55%), Employees Provident Fund Organisation PF Claim Status, Pension Status, Print Updated Passbook, Print your UAN Card, EPS Withdrawal in  ….
EPF (Employee Provident Fund) is a social security scheme that is created through the contribution made by an Employee during his active service period and a matching contribution made by his employer. The contributions are paid regularly every month during the period of employment of the employee till he retires. Epfindia.gov.in is the official web portal for EPFO India.
The aim is to build a corpus of funds available to the employer upon his retirement. Thus it amounts to creating a retirement fund or savings. The EPF scheme is applicable across India and across industries and organizations.
The EPF is managed by the Employees' Provident Fund Organization (EPFO), which is a government body created through the Employees' Provident Funds & Miscellaneous Provisions Act, 1952 which extends to the whole of Indian except Jammu and Kashmir. There are more than 5 crores subscribers to the scheme and it ranks among the largest social security schemes in the world.
Under the EPF Act, there are three schemes which are included within the package:
Employees' Provident Fund Scheme (EPFS)
Employees' Pension Scheme (EPS)
Employees' Deposit Linked Insurance Scheme (EDLI)
The Employees' Provident Fund is created to provide financial security and stability to employees. An employee begins contribution once he joins a company. These contributions are made monthly on a regular basis. By saving a fraction of his salary every month, an employee can use it when he is not in employment or has retired.
The rate of contribution for both the employee and employer is at the rate of 12% of wages. In addition the Employer also contributes Administrative Fees and EDLI.
How to Get PF (Provident Fund) ?
PF can be withdrawn only under certain situations. In case of partial temporary withdrawals there are certain provisions that need to be complied with. In this case the employee can get the PF as a temporary loan which must be deposited back to the Fund.
Earlier, beneficiaries under the scheme, after separation or resigning from a job do not get their PF transferred from the previous employer to the new employer. One reason for this was that earlier the PF transfers often took time and were very complicated. Moreover, the funds were safe in the hands of EPFO and kept earning interests. If anybody want Transfer the Provident Fund Amount it is possible to transfer PF amount from one pf account to another new pf account.
EPF Balance Check using UAN Number or PF Number at epfindia.gov.in
The EpfIndia website https://epfindia.gov.in gives you all the information about EPF that you will ever need. This includes your PF Balance Check with or without UAN Number. You will need to have UAN for accessing most of the features. Here is how you can use the EPF portal for checking your EPF Balance using your UAN or PF number.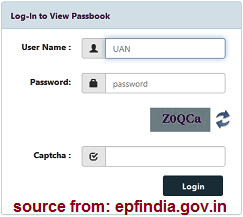 PF Balance Check using with UAN Number
Ensure that your UAN has activated by your employer. Your UAN is unique and irrespective of how many job changes an employee has done, he can have only one UAN. One check the EPF balance using EPFO portal using the following procedure:
For checking the PF Balance, the employee needs to have his PF account linked with the UAN number.
The member passbook is available on the following link: https://www.epfindia.gov.in/site_en/index.php
The user needs to click on the tab "Our services" You will see a drop down showing various services. User needs to click on "For employees".
When the person clicks on "For Employees", he will be directed to another page with the services. Click on Member passbook under services.
It will re-direct the person to another page which will ask for the UAN number and password. The user needs to enter his UAN number, Password and Captcha from the image and click on "login"
Once you click on login button, you will be able to see the member IDs under your account.
You can click on the specific member ID to see your details. Once you click on the specific member ID, you will be able to see the detail pass book of that account. The pass book will show the contribution of the Employee and the Employer separately.
EPF Balance Check using PF Number in https://epfindia.gov.in
This is a very limited or restricted method of EPF Balance Check, as compared to the one that you can do with an UAN. To get your EPF Balance using the PF Number, follow the following steps.
Go to Epfo India official website: https://www.epfindia.gov.in/site_en/index.php
At the bottom of the page, you will find; Click here to Know Your PF Balance.
On clicking that link, you will be taken to the EPFO website and the page will display the heading; Member Balance Information
Select your state.
Select your EPF Office
Select your Establishment Code.
Enter your PF account number, name, and mobile number.
Select the I Agree, checkbox.
Click the Submit button.
That is all required to be done, to know your EPF Balance using you PF Number.
Employee PF balance check without UAN number at passbook.epfindia.gov.in
Nowadays it is not possible to ePF balance check without UAN number. After UAN and Aadhar seeding has become a mandate for PF account, it is compulsory to have a UAN number. You can do that by checking the status of the UAN number and it is showing not available, you can contact your employer to get the UAN number or can contact the local PF office for assistance.
Please note the following detail related to PF passbook:
The facility can be used to view the UAN passbook of the members who are registered on the unified member portal.
For a person who has newly registered to the account will be able to access the account after 6 hrs of successful registration.
Similarly any changes in the account will be made effective on the account in 6 hrs from the changes.
Passbook will have the entries which have been reconciled at the EPFO field offices.
Passbook facility is not available for the exempted establishments' member/settled members/InOperative members. The establishments that are exempted will get a message "Passbook not available to this Member-id as this pertains to the exempted establishment (i.e. Trust). Requested to contact your employer."
One can also use some other ways to check the PF balance:
By sending an SMS: If the UAN is registered on the EPFO site, you can also check your PF balance using SMS facility. You can get the PF balance by sending an SMS to 7738299899. You need to send the following SMS:
EPFOHO UAN ENG. ENG is the first three characters of the language you prefer. The facility is available in many national and regional languages like Hindi, English, Marathi, Punjabi, Gujarati, Marathi, Kannada, Telugu, Tamil, Malayalam and Bengali. The details will only be available for the registered members. So it is important that the UAN is linked with account numbers. PAN number and Aadhar number.
By giving a missed call: Registered members can also check the details by giving a missed call to the following number 011-22901406. The missed call should be given from the registered mobile number only.
By using EPFO app: One can also check the balance using EPFO app. The app can be downloaded from the google play store. Once the app is downloaded, one needs to click on the Member and then on the Balance/Passbook. After that one needs to enter UAN and the registered mobile number to get the details.
How to Check EPF claim Status at passbook.epfindia.gov.in
If you have your UAN which is activated, then checking your EPF Claim status or PF Claim Status becomes very easy, simple and straight forward. This is the new facility offered by EpfoIndia. Just follow these steps.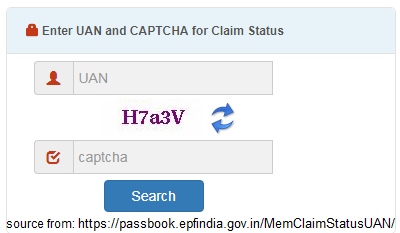 Check your PF Status by UAN
Go to https://epfindia.gov.in/site_en/
Select – Our Services; then from the drop-down list, Select – For Employees; then Select – Services
On the next screen, Click – Know Your Claim Status
The link will be taken to this URL: https://passbook.epfindia.gov.in/MemClaimStatusUAN/
The screen will display two boxes or fields where you have to input the information.
In the first box, enter your UAN
In the box below, enter the Captcha text that is displayed on the right
Click the Search button.
That is all you need to do. Your EPF Claim status will be displayed on the screen.
There is also an old way of checking Claim status by EPF number. If you want to check your EPF claim status online at https://epfindia.gov.in then you need to follow these steps.
Log in the EPFO website with https://www.epfindia.gov.in/site_en/KYCS.php
Select your State and then the EPFO region, office from the drop-down list.
Search for the Establishment code on-screen
On the screen displayed, Fill up the blank boxes with your EPF account number. The first two boxes containing State and EPFO office will be filled up automatically. Fill the extension code, if it is there in your EPF account number else leave the 3 digit extension code blank.
Click – Submit button.
Your EPFO claim status message will be displayed on the screen. It will also give you an idea of the time it will take to get your EPF balance deposited in your bank.
How to Activate Universal Account Number (UAN Activation Procedure) at unifiedportal-mem.epfindia.gov.in?
What is UAN? It is a simple way of identification available for all employees. There are very rules and regulations that govern the process or procedures followed in getting a Universal Account Number.
At the same time, it is important to understand that this is not just meant for governing the employees only but the employers as well. This is because, any organization, company or establishment that has more than 20 employees is expected to own a Universal Activation Number. Although this has not well into people, but with time is getting implemented better than before.
There are several benefits of registering or activating Universal Account Number and below are the main benefits.
You can be able to download or print your updated passbook anytime. (This is easily available in the website).
At the same time, it becomes easy for you to download your Universal Account Number Card from the comfort of your house.
The last major benefit is the fact that, you are able to update your KYC information with just a few clicks.
Once you have registered for your Universal Account Number, it is important for you to activate it so that you can be able to easily access it. The procedure followed in activating your UAN is also a very simple procedure and takes just a few minutes especially for people who are computer literate.
Step by step procedure of Universal Activation Number UAN Login Activation
The first step is Open the UAN Web Portal HomePage Link: https://unifiedportal-mem.epfindia.gov.in/memberinterface/
After find the option "Activate UAN". Click on the link.
Then Entering your Universal Account Number: This simply means typing in the UAN you want to activate and it is as simple as it is.
The 2nd step involves entering your Member ID.This second step involves a few more requirements which are easy to enter. The steps involved are:
Select State: There is a drop down for this with all the states to be covered in the region and all you are expected to do is select your state from thdrop-downwn.
Select Office: Just as the state, there is also a drop down giving information of the same and all you need to do is to ensure that you select the right office. After this is done, there a few more details that you need to fill under this step which are:
Filling in your Region: For the region, you need to key in your region as it is officially known.
Fill in the office details: This one needs you to key in the necessary details as there is ndrop-downwn provided to make your work easier.
Est Id: The next step is keying in your estate identity which has to be done manually as there is no dropdown provided for the same.
Est Ext: This is the same as the above four. You key in the necessary details of your Est Extension.
Fill in your Member Id: This is the last step in this second procedure of activating your UAN. If all the procedures are well followed, you can then proceed to the next step.
Key-in your Aadhaar details: Just as we had mentioned before, it is now mandatory to seed your Aadhaar with your UAN before activating it. You are provided with a space for doing that.
PAN: After keying-in your Aadhaar details, what follows is the PAN details in the space provided.
Once you have filled your Aadhaar Number and PAN Numberdetails, you will be expected to fill in your personal details are as follows.
Name: Make sure that you enter the name as per certificates. Use of pet-names or any other names not in the government's database might give very different results and it is not allowed.
Date of Birth (DOB): In this part, you also have to be sure of the details you fill (no guesswork). Ensure you enter the details as they are in your SSC certificate.
Mobile Number: It is very important to understand that you can only use one phone number when registering your Universal Account Number. Therefore, make sure you enter the valid mobile number you use regularly.
Email Id: Give there official details that you use regularly to ensure you'll easily be reachable in case of anything.
Once you have filled in all the necessary details, you will receive a Captcha to confirm that you are not a robot.If you fillthe letters given in the right way you will receive an authorization Pin and your account will be ready for use.
In case you have any questions, you can call their office number and you will receive the necessary support.
Once you know your UAN, then the next step is to Activate UAN. Without activation of your UAN, you cannot take advantage of the several features that EPFO website provides. Also you will not be able to get your EPF Balance by sending a missed call or messages to EPFO numbers. You will also not be able to use the EPF app on your mobile. Therefore, it is imperative that once you get your UAN, you must activate it.
The requirement for your EPF UAN Activation is to keep the UAN and EPF number handy, as this information will be required. Moreover, you will also need to keep your mobile nearby and online, so that you can receive the OTP in the mobile. UAN Acttivation can be done via web portal as well as using the mobile app
You can now view your contributions and EPF balance in the Member PassBook page and also download and save it. You can take a print out of your UAN Card for your reference. You can claim for Transfer and even withdrawal of funds. You will also be able to modify or edit your profile data such as mobile number, email id, KYC, password etc.
How to Forgot UAN Password (UAN Password Reset Procedure) at unifiedportal-mem.epfindia.gov.in
Once in a while people Forget UAN Password and want to recover or Reset Uan Password it. The procedure for doing it is actually very simple. Here you will learn to do it yourself. Just follow these steps.
This will work if your particulars that you enter, like Name, Date of Birth, Gender and Aadhaar / PAN etc. matches with what is available with EPFO.
Often it happens that some data may have been entered wrongly by the company staff while feeding the information in the EpfoIndia website. In such cases when you enter the correct data it will not match with that in the EPFO database.
You will receive an error message. In such cases you should immediately contact your employer to get the details.
Go to UAN website of EPF: https://unifiedportal-mem.epfindia.gov.in/memberinterface/
Click on Forgot Password.
Enter your UAN number and the Captcha.
Click on Verify.
Your mobile number in your UAN database will be shown. If you want to change the mobile Number, click No.
You will be asked your Name, Date of Birth, Gender, KYC Type, and Document Number. Enter these details. Click on Verify.
Click – Get Authorized Pin
If OTP is successfully sent, you will see the message OTP is successfully sent. Sometimes you may get the message – Failed to send OTP. Please try again later. In such case you can re-try after some time.
If OTP is sent successfully, then you will get the OTP on your registered mobile number.
Enter the OTP at Enter Authorization Pin.
Enter the New Password. The Password must have minimum 7 characters and minimum 4 alphabets, minimum 2 digits, 1 special character. Out of the minimum 4 alphabets there should be at least one capital and one small letter.
Next, Confirm the New Password.
Click on Submit Button.
You will receive a pop-up message – password successfully changed.
Congratulations! You have successful Recovered you lost UAN password and hot new password. Now you can Login to the EPFO website with your new Password.
How to Link Aadhaar number with uan account in iwu.epfindia.gov.in
Employee's Provident Fund Organisation (EPFO) has provided eKYC portal for Linking Aadhaar number to UAN account. You can check your account PF Balance using UAN / PF number whenever possible by using UAN portal. We have provided the procedure for how to link Aadhaar number to UAN. Here are the steps to you to get information.
Go to any search engine and type epf india gov (or) you can also type the direct keyword of epf official link i.e, iwu.epfindia.gov.in
Search Aadhaar Link/ eKYC on that home page, then click on it.
It will open a new webpage: https://iwu.epfindia.gov.in/eKYC/LinkUanAadhaar. You can also see the image of eKYC Portal as below.
EPFO FO/ Employers should enter your User ID, Password and Captcha codes and click on Login Button.
EPFO Members can go to the below link i.e, 'Link UAN Aadhaar'. If you click on the link, it will open a new webpage, we have provided the image also in below
Enter your UAN, Mobile Number ( Registered/ Already Liked with UAN), then click on 'Generate OTP'.
Then you will get an OTP number to your registered mobile. Enter the "OTP" for confirmation and Gender, Aadhaar Number and Capta Code.
Note: For Aadhaar Number verification You can select 'Using Mobile/ Email based OTP'/ Using Biometric.
After enter the details completely in all respects, you can click on 'Submit' button.
Finally you can get an email of successfully linked to your registered email address and also the sms to your registered mobile.
UAN Member Passbook in passbook.epfindia.gov.in/MemberPassBook/?
For a EPF member who has an UAN and password; accessing the Passbook is very easy, convenient and readily accessible. The process is given in these steps.
Go to the Member Passbook website
Select – Our Services
Select – For Employees
On the Member Passbook page, Login with your UAN details. Enter the 12 digit UAN number and Password of UAN website.
You can now view the Passbook.
You can save the Passbook by selecting Print, and then Changing Destination to Save as PDF.
That is all there is to it!
How to Check UAN Status at unifiedportal-mem.epfindia.gov.in?
Universal Account Number (UAN) is a 12 digit number that is allotted by the EPFO to give a unique identity to an EPF subscriber. UAN also makes it easy for online accessing your EPF account. It also helps in transferring EPF easily when one changes job. The UAN remains the same from a lifetime of the employee and can be used anywhere in India.
The EPFO allot the UAN to the employer on behalf of the employee. This is done after the KYC details are filled-in by the employer and it is verified on the EPFO portal. Once EPFO allots the UAN, the employer will provide it to the employee. You can also check the status of your Universal Account Number online.
Checking the UAN status:
To check the UAN status, you need to follow these simple steps.
Visit the EPFO website at http://uanmembers.epfoservices.in/
Click on the option of Know your UAN status.
On the fields displayed on the screen, select your state. Next select the PF office and the region. Then enter your PF number on the blank field displayed.
You will get the Check Status option. Click on it.
In case EPFO has allotted you your UAN, you will see a pop-up massage – Your UAN is allotted, kindly get your UAN no. from your employer.
In this case you can get the UAN from your employer. In case your UAN ststus is shown as pending, then you can get in touch with the employer and find out what went wrong while feeding your data. It is also possible that your information is incomplete. You will have to complete the documentation properly to ensure that there are no errors.
Once you get your UAN, the next step is to activate it from the EPFO portal and start getting all the benefits provided, including the ability to view and manage your EPF account.
How to Check Pension Status in mis.epfindia.gov.in website
It is very easy and simple to check your pension status from the EPFO portal. You simply need to log on at the link given: https://mis.epfindia.gov.in/PensionPaymentEnquiry/pensionStatus.jsp
This link is very useful and handy to check whether your Pension has been credited or not. This link will help you in displaying you're the amount credited for your Pension along with the history; that is the amount being credited from the beginning.
Follow these steps to do it yourself in a jiffy. All you need to have is the information that you need to enter.
Go to the link: https://mis.epfindia.gov.in/PensionPaymentEnquiry/pensionStatus.jsp
On the screen Welcome to Pensioners' Portal will be displayed.
There will be two boxes or fields that you will be required to fill in.
The first will be Issued Office. Choose the office from where you are getting your EPF Pension.
The next field Office Id will automatically get filled in.
Next, enter your PPO No.
Click on Submit button.
That is all. The screen will show your Pension status.
To know the amount of Pension being credited every month and other details, you will need to access Pension Enquiry link: https://mis.epfindia.gov.in/PensionPaymentEnquiry/paymentEnquiry.jsp
The steps are the same except that here you will have to enter your Date of Birth as well. Here are the steps.
Once you log in the link, the screen will display – Welcome to Pensioners' Portal; and below that ill be displayed – PPO Enquiry/Payment Enquiry
There will be four boxes or fields that you will be required to fill in.
The first will be Issued Office. Choose the office from where you are getting your EPF Pension.
The next field Office Id will automatically get filled in.
Next, enter your PPO No.
Then Pensioner's Date of Birth will be asked. Enter your Date of Birth
On the bottom box, fill up the Captcha.
Click on Submit button.
You are done. The screen will display the Pension payments done already and credited to your account. You can also view the history and the past credits of your pension.
Overview on EPF Interest Rate
The interest rate that is applied on the EPF fund accumulated is a compound epf interest rate that is decided by the Central Board of Trustees (CBT) and approved by the Government of India. It is payable as on the 1st of April every year.
Although the contributions are made monthly, the interest is calculated yearly. At the beginning of every year there is an opening balance which is the amount accumulated so far. Therefore the opening balance for the next year would be the opening balance of this year plus total monthly contributions for the year plus interest on the previous opening balance and total contributions. The interest is only applicable for the EPF balance. EPS balance is not affected as it is a pension scheme.
EPFO has more than 6 crores subscribers and this year the interest rates for 2017-18 has been reduced to 8.55% from 8.65% previously in 2016-17. Earlier in 2014-15 and 2015-16 the interest rates used to 8.8%. Our Central Government was recently reduced the Epf interest Rate of 8.55 % and it is the lowest pf interest rate in five years. This is despite the fact that this year the fund gained more than Rs.1000 crores in capital gains by selling off a part of its equity. The CBT's decision will now be ratified by the Government and then the interest income will get credited into the account of EPFO members.
How to Download / Print Updated EPF Passbook anytime at passbook.epfindia.gov.in?
Earlier an employee got the information about his EPF Account details only once in a year when he received a printed EPF account statement. That is a thing of the past now as the Employees Provident Fund Organization (EPFO) has already undertaken a digital makeover. Now you can easily download your detailed e-passbook online.
There is a more simple process of downloading your passbook with the help of your UAN. The steps for doing this are given here.
In case you have an UAN and it is activated, then it is no big deal to download or print your update passbook at any time of the day or night. To download your EPF passbook follow these steps. Keep your UAN and password ready.
Go to EPFO website's homepage at: https://www.epfindia.gov.in/site_en/
Under 'Our Services' click on – For Employees
Select 'Services', and click on – Member Passbook
On the boxes appearing, enter your UAN and Password
Your passbook will be displayed on screen. You can now view the EPF Passbook which will be displayed on the right.
To save the EPF passbook as PDF; right click the mouse and then select the Save As option.
There, you are done. It is such a simple and amazing way to achieve this.
What does your UAN Card contain?
The UAN card issued to you by the EPFO contains the following details:
UAN – The Universal Account Number of the employee is printed in prominent red color on the UAN card. It is printed on both sides of the card.
Name of the Employee – The employee's full name is mentioned on the UAN Card. The name is as provided in the EPF portal by the employer.
Father's Name/Husband's Name – The employee's father's name is mentioned on the card. In case of a married woman, her husband's name is mentioned.
KYC – In this section, if the employee has submitted his KYC documents and got them approved by the employer then Yes is mentioned on the card. In case it is pending, No is mentioned.
QR code – On the reverse the card, a QR code is printed. This QR code can be scanned to check the details of the UAN card. This helps in easy authentication of the card.
Date Stamp – The date on which the UAN card is downloaded is also printed on the card.
These information printed on the UAN card is according to the EPFO database. The database is created by the employer by uploading the documents and details provided by the employee.
There can be errors or some data may need to be updated. In such cases you can contact the employer, or the EPFO office. There are several data that can be amended or changed by the employee through the portal after logging in with the required credentials. In case there are errors in your details, you can get them corrected/updated by contacting the concerned EPFO office.
EPFO is coming up with several advance features that can be used by its members. It is becoming more and more technological savvy. EPFO has already won the Gold Award for "Innovative Use of Technology in e-Governance" for the year 2015-2016. You can access all the functionalities of EPFO wen portal on the "Umang" App on your smart phone. In the coming days, be ready to get pleasantly surprised more often !
How to Download / Print your UAN Card at unifiedportal-mem.epfindia.gov.in?
The UAN card issued by the EPFO, can be considered as one of the important documents that you can have with yourself. It contains the important details relating to the employee. The UAN card is required in case of job changes. The new employer will ask you to submit your UAN card so that your EPF account can be linked with the Establishment account.

For this reason, EPFO has brought out the facility to enable employees to download and print The UAN Card from the Member e-Sewa portal. If you have activated your UAN in the EPFO portal, then it is just a simple process to Download or Print your UAN Card.
Steps for downloading UAN Card
Follow these simple steps to download and print your UAN card.

Go to the Member e-Sewa portal: https://unifiedportal-mem.epfindia.gov.in/memberinterface/.
Login to your EPF account with your UAN and password
Go to the View section; click on the option – UAN Card
Your UAN Card will be displayed on the screen.
Now you can Download or Print the UAN Card.