EPF Online Payment or EPFO Online Payment will paid now at Esewa website unifiedportal-emp.epfindia.gov.in……
EPFO, India provides Online Payment is mandatory for all private sector employees to have an EPF (Employee Provident Fund) account. The EPF Online Payment will be available in All Government Sector Banks like SBI, Punjab National Bank, Andhra Bank etc. Instead, you can make use of the EPFO online payment facility. Read on to find out how. There are lot of EPF Online Facilities provided by EPFO. Each and Every Employee or Pensioner can get EPF Payment through online.
How to Pay EPF Online Payment
Every employee must have any authorized Government Banks listed in E-seva portal you can make the EPF payment online. If you already have a Corporate account like SBI, Bank of India, HDFC Bank, Bank of Baroda, etc., then you can easily get the EPFO payment online facility. If the Employee or Pensioner can have online banking facility that facility is useful to transfer the amount online from your government bank account to EPFO Account.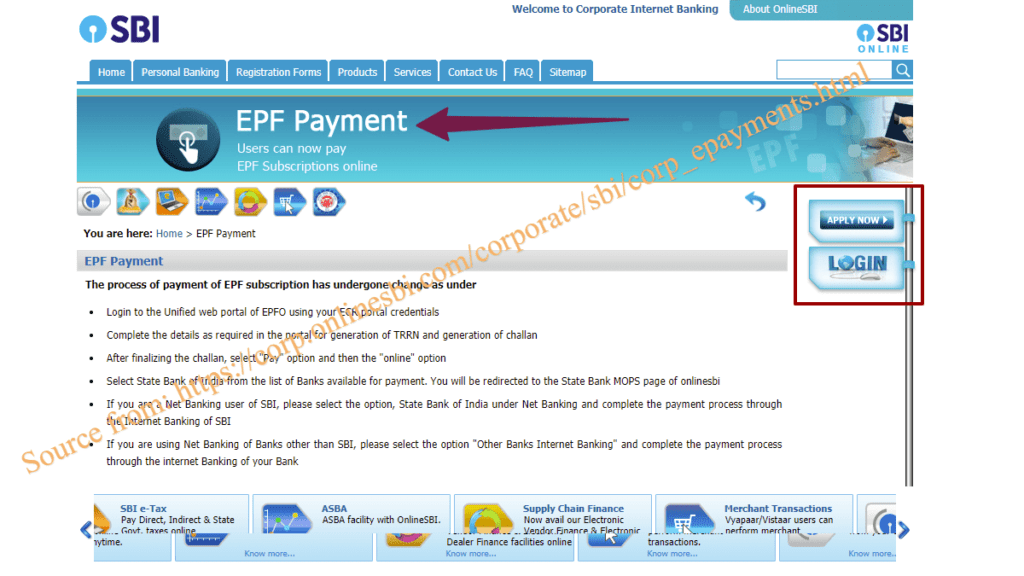 Now Coming to the point in this article we will give the brief guidelines on How to Pay EPF Payment through online mode. Follow the below instructions you can get easily how to know the payment via online…..
First of all Sign into the E-sewa website https://unifiedportal-emp.epfindia.gov.in/epfo/. Then you must enter your Unique Username and Password.
After loading the page you can under the Payment option, click on 'Payment (ECR)'.
Download the last month ECR in CSV format (Excel Sheet).
Enter the details in the columns and save the file as a text file (*.txt).
Then you can upload the text file and click on 'Proceed' button.
In the Payment section, it takes those extra charges like Administrative charges for PF (0.85% of Total EPF Wages – minimum INR 500/-); Administrative charges for EDLI (0.01% of total EDLI wages – minimum INR 200/-).
You can Generate the Challan form by clicking on 'Generate Challan'. On the same webpage you will find the TRRN. Download the Acknowledgement slip and Challan receipt.
Select the Payment Option as 'Online Payment'.
Now Select your bank using Online Payment. You can pay through online you can get the debited amount message to your Mobile.
You must keep the ECR and TRRN for future reference. Please a Take a Print out after the completion of Online Payment
For More details please visit EPFO official website i.e e-Sewa Portal.
How to Pay the EPFO Online Payment at unified portal website?
How to Pay the EPF Payment online at unifiedportal-emp.epfindia.gov.in?

EPFO Online payment through Bank Challan and TRRN (Temporary Return Reference Number) has been mandatory by EPFO. If the fresh employee who are need to EPF Registration or UAN Activation everyone must logon into E- Sewa Portal. In that portal Registration option will be available in footer of the website. Click on Application for Employee Registration. Then Fill the application as per guidelines. Then you can activate it.

How to fill the EPF Online Payment form at unifiedportal-emp.epfindia.gov.in?

It is very easiest process just open the unifiedportal-emp.epfindia.gov.in official website. Then login to give the UAN and password. Then search for 'Online Payment' option. Click on it. Then payment via either UPI or Debit Card or Credit Card. After that take a print out.