UAN Login Employee or Universal Account Number Login Employer Procedure or UAN Signin Process and also Step-by-Step instructions on Activate UAN at unifiedportal-mem.epfindia.gov.in….
In previous posts our team will briefly explained on UAN Login Employee, EPF UAN Status, UAN Activation process, UAN Benefits in Transferring, withdrawal, correction etc. EPF is the most important thing for every government employee or Employer or pensioner. Actually Provident Fund is an excellent facility and it is an advantage of every government employee. Everyone must keep or know your Universal Account Number and the number is used for all EPFO services.
How to Logon into UAN Login Member Portal
Actually every government job holder lot of confused about on how to Signin into UAN Member Portal. And also after logging into the portal how to use EPF Online Services. Every must know what is the difference between EPFO Login and UAN Login.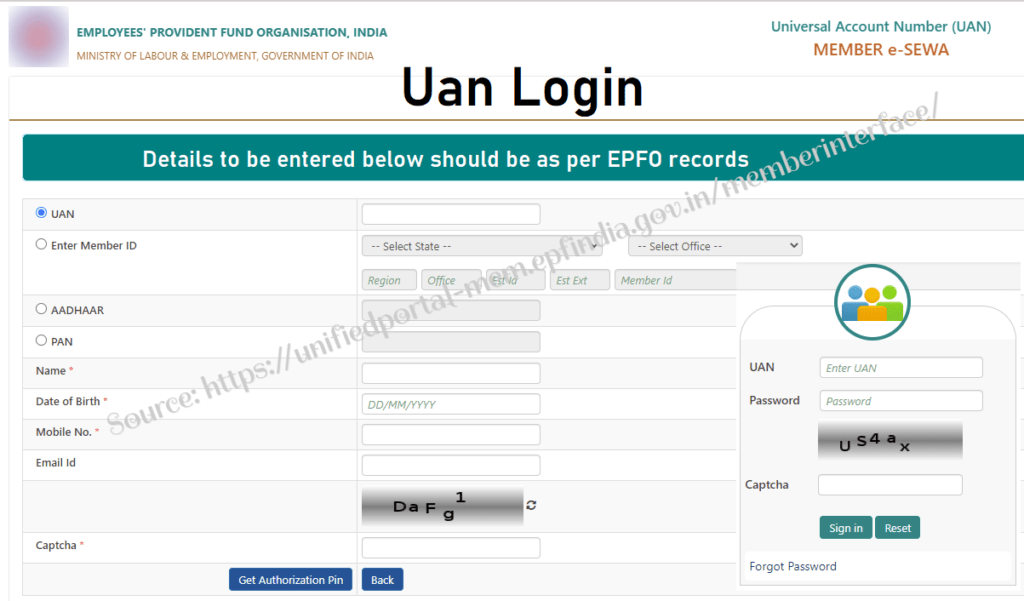 There are various steps followed in case one needs to UAN login online to their UAN member accounts. However, the process followed is not known to many people as not all are familiar with technology. Below is a simplified step by step procedure of Universal Account Number Login into your EPF account online.
Open the UAN main homepage URL: https://unifiedportal-mem.epfindia.gov.in/
The first step is entering your Universal Account Number.
This is followed by the password.
Once this is done, you will receive you will receive a Captcha to confirm you are not a robot. Once you fill the Captcha as expected you can move to the final stage.
The final stage is signing in and you will be good to go.
How to recover / Reset UAN Login password?
Sometimes it happens that we Forget UAN Password that we created while activating and registering the UAN. This is not a major problem that cannot be overcome. If you have a registered mobile number, you can easily recover / reset UAN Login Password. The process to do it is as follows.
On the home page of the UAN website, click on the 'Forgot Password' hyperlink that is present below the 'Sign In' tab on the login window.
Now on the next screen, enter the UAN number and the Captcha correctly and then click on the 'Verify' tab.
On the screen which appears next, you will be able to see the registered mobile number linked to your UAN. If it is ok, click on the 'Get authorization PIN' tab. If it is not OK, click on the 'No' and then proceed to change the mobile number and then click on the tab 'Get authorization PIN'.
Once you get the OTP on your mobile, you need to enter this OTP in the box placed before 'Enter Authorization Pin' on the screen. Once entered, you will need to enter a new password of your choice. Enter a new password as per the requirements stated on the site and then click on the 'Submit' button.
Now on the screen, you will get a message that the UAN Login password is successfully changed. Now use this new password and the old UAN number to login to the portal.
This is how you can create a UAN with the Aadhaar online and get access to all the services of the EPFO portal online.
For More details Please Visit http://www.epfindia.gov.in/ and for any queries mail to Helpdesk: employeefeedback@epfindia.gov.in
How to Logon by Using UAN Login at unifiedportal-mem.epfindia.gov.in?
How to Login UAN at unifiedportal-mem.epfindia.gov.in

By using UAN Login Details you must go through UAN member portal. If you have before UAN Activation you must enter the 12 digit Universal Account Number. If your EPF details is tracked to your UAN 12 digit Number. So Every EPFO Employee must remember your UAN Number. Please note that employees before 1990 (i don't know exact won't UAN number). If UAN not Allocated you can Generate a Request for UAN Number at UAN member.

How to Register a Universal Account Number in unified portal website?

There are several requirements needed to be submitted before you receive your UAN account. Some of these requirements include: seeding your activated UAN with Aadhaar if you want to make any online claim. Another important point that one needs to keep in mind is that, you can only use one phone number for UAN registration. You can also be able to view your EPF account passbook if it is tagged with UAN.